A Modular Wall System is used for the wall covering of hygiene areas, such as hospitals, clinics, operation theatres, cleanrooms etc; It consists of a thoroughly designed substructure which hosts all the needed E/M infrastructure and includes special parts for corners, finishing materials installation and wall elements' mounting
Let's have a closest look to the final surface of a modular system: It is created by 4 different types of panels that all perform excellently against bacteria.
Antibacterial HPL Panel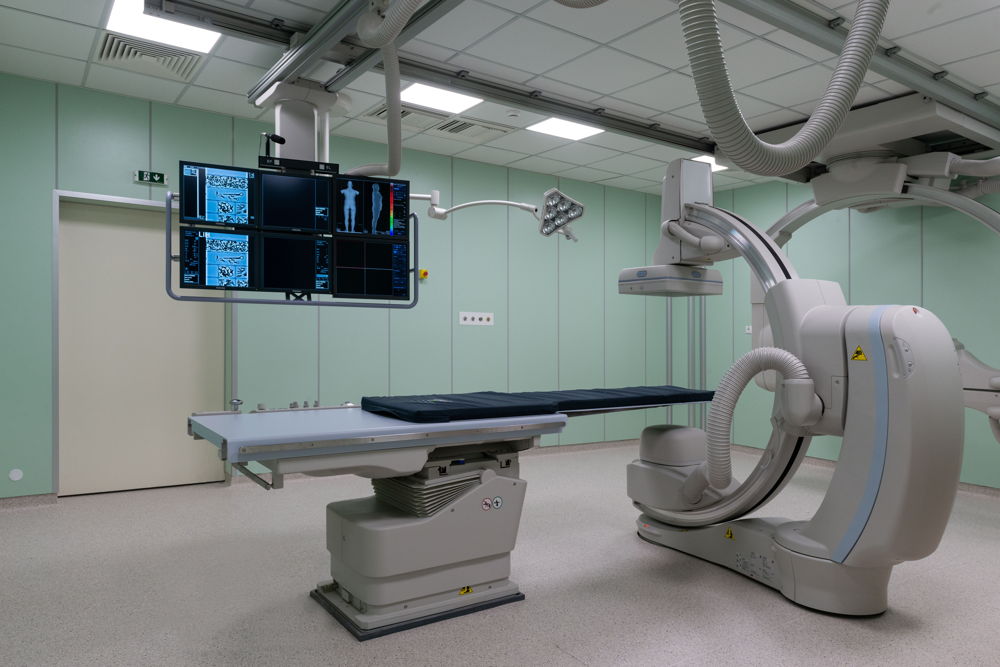 HPL material is a solid (≥ 2mm) high pressure laminate whose decorative surface complies with EN 438 and ISO 4586 standards. Its core consists of layers of cellulose fibers impregnated with phenolic resins while its surface of one or more layers of cellulose fibers impregnated with thermosetting resins.
Its antibacterial technology is not based on "temporary bacterial inhibition" but on continuous fighting of bacteria and inhibition of their growth.
The new range of antibacterial panels is called LAMISHIELD and uses Biocote antibacterial technology. This technology focuses on:
– destruction of the bacterial cell membrane
– destruction of the protein synthesis of bacteria
– DNA damage of bacteria
This results in 99.98% bacteria-free surfaces within 24 hours according to ISO 22196: 2011. Regarding the aesthetic part, HPL panels are available in various thicknesses, designs and finishes, with one or both sides decorated. The HPL color chart has a wide range of shades and finishes, providing solutions for every kind of need.
Stainless steel and galvanized steel panels with electrostatic painting
A modular wall system constructed with metal panels such as stainless or galvanized steel not only is a very economical solution for clean rooms and sanitary areas, but can also provide a high level of quality.
Between the benefits are:
-Customized cleanroom wall panels
-Surface and depth can vary
-Simple installation through simple system
-Provision for E/M works installations
-Reduction of fasteners
-Minimization of assembly time
-Local repairs possible In the case of Galvanized steel panel they can be served in a big variety of colors with the application of antibacterial powder. This kind of powder can prevent the growth of bacteria on metal surfaces Antibacterial powder contains a substance that inhibits the growth of microorganisms on the painted surface
Glass Panels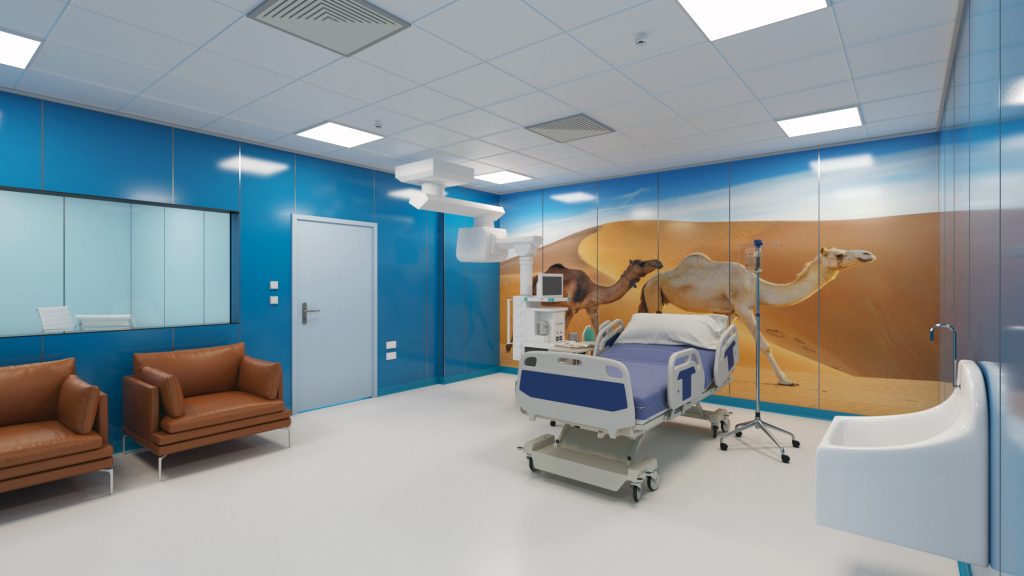 The wall system consists of a substructure for wall heights up to 4000mm.
The glass wall panels can reach a maximum height of 3000mm. Glass is an ideal cleanroom material, because it is completely non-porous, it is resistant to almost all chemicals, it is scratch and dent resistant and adhering dirt can be easily removed. Our experience has shown that glass breakage rarely occurs as the glass panels we provide are securite and oven cooked meaning that they cannot break by hitting the surface.
Main advantage, though, is the ability to print any graphics creating an extraordinary visual effect in the room, keeping healthcare aesthetics unique.
Benefits:
– Savings in cleaning
– Simple surface treatment (no special treatment)
– Minimization of assembly time
– Local repairs possible
– Level differences minimized by vertical joints
Advantages:
– Customized cleanroom wall panels
– COLORPRINT HD. Digital print Glass
– Individuality of panels
– Simple installation through simple system
– Provision for E/M works installations
Read more about Vaelma® Modular Wall System with antibacterial technology